The global orchid flower industry thrives on novelty. Dendrobium genus is a mostly epiphytic and lithophytic plant in Orchidaceae, with not only ornamental value but also high medicinal value. Floral scent, like color and shape, is a key ornamental trait that determines the quality and commercial value of orchids. Geraniol, an important acyclic monoterpene alcohol in orchids that attracts pollinators, is also involved in responses to stresses, however, the geraniol synthase (GES) responsible for its biosynthesis in the horticultural orchid Dendrobium officinale has not been well studied.
With the introduction of Dr. YU Zhenming (Principal Investigator: Prof. DUAN Jun), Ms. ZHAO Conghui from the South China Botanical Garden of the Chinese Academy of Sciences found that three potential GES proteins were mined from the D. officinale genome. DoGES1, which was localized in chloroplasts, was characterized as a geraniol synthase. DoGES1 was highly expressed in D. officinale flowers, especially in petals. DoGES1 transcript levels were high in the budding stage of D. officinale flowers at 11:00 a.m. DoGES1 catalyzed geraniol in vitro, and transient expression of DoGES1 in Nicotiana benthamiana leaves resulted in the high accumulation of geraniol in vivo.
These findings on DoGES1 advance our understanding of geraniol biosynthesis in D. officinale, laying the foundation for genetic modification of floral scent profiles in D. officinale or in other ornamental orchids.
These results were recently published in International Journal of Molecular Sciences, entitled "Functional characterization of a Dendrobium officinale geraniol synthase DoGES1 involved in floral scent formation". For further reading, please refer to: https://doi.org/10.3390/ijms21197005.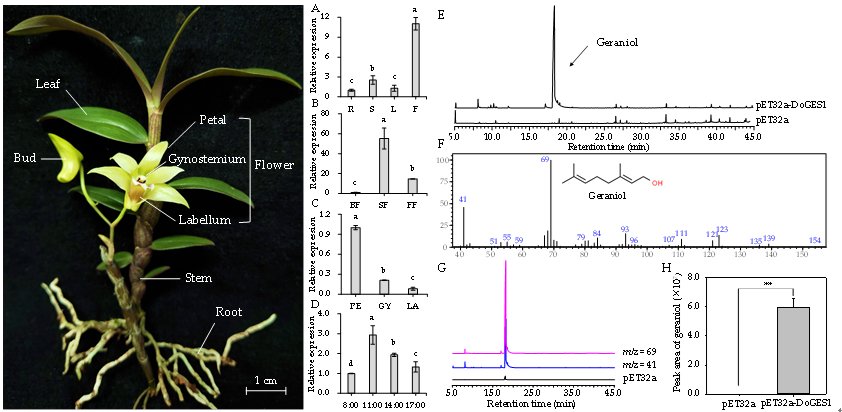 Figure (A-D) Expression levels of DoGES1 in different D. officinale tissues. (E-H) In vitro enzymatic assays of recombinant DoGES1 using GPP as the substrate.